Golf - End of 2022 season October 16th, 2022
Enjoy your golf day!
Golfing doesn't get much better than here at Mont Gabriel Resort & Spa. From our golf course located at the summit of the mountain, you'll enjoy breathtaking views of the Laurentian Valley, rolling greens and a rich landscape of trees and foliage. It's a truly unique and breathtaking golfing experience you won't find anywhere else in Quebec. Golf Mont Gabriel is situated on the site of Hotel & Spa Mont Gabriel, one of the rare golf-in, golf-out hotels in Quebec. Built in 1990, the course is set on 212 acres integrated on Sommet Gabriel. The layout was designed in order to offer a panoramic view of the Saint Sauveur Valley and surrounding ski hills.The mountainous panorama offers breathtaking views and entails the mandatory use of a golf cart to optimize the playing speed. Hence, all our rates include a golf cart.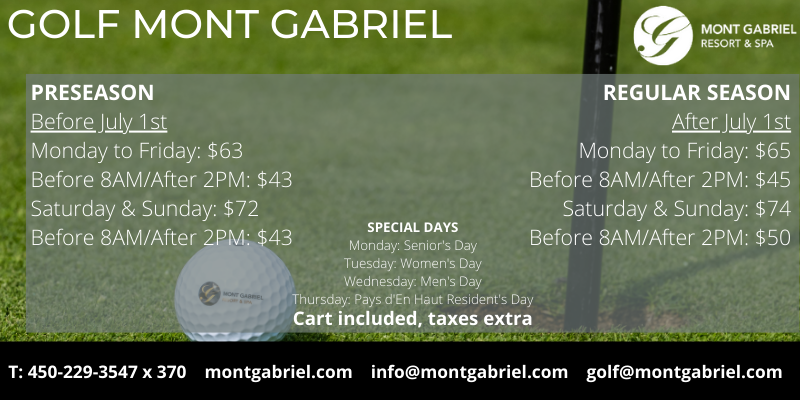 STAY AND PLAY PACKAGES
For all our Stay & Play Packages, visit our Packages & Special pages!
HEALTH & SAFETY MEASURES : COVID-19 RESPONSE
To ensure that all our customers and employees feel safe and enjoy their game, we have added extra measures.
Practice Areas and Other Installations
Your experience begins with your arrival at one of the most beautiful club houses in the Laurentians. Hotel & Spa Mont Gabriel offers many restaurants where you can enjoy a bite before or after your game. Another great option is to sip a cocktail on our magnificent terrace. A practice green and a driving net are also available right next to our pro shop. Plus, our Tee-bar gives you the opportunity to grab a snack at the tenth hole and a mobile canteen runs across the course according to occupation.
Golf Course
Located at the summit of Quebec's Mont Gabriel with breathtaking panoramas, the golf course is bent grass and maintained with the highest quality standards. The 212 acres offer three start points on most holes with large greens. The course has six par-3, eight par-4 and four par-5 areas. Additionally, our golf carts provide the greatest comfort to allow you to play your best game possible. Our signature hole, a par-3, has an interesting degree of difficulty combining dexterity, perseverance and precision - an excellent opportunity for a friendly competition!
2022 Golf Membership
Become a member of one of the most breathtaking courses in the Laurentians!