Activity Ideas during the holidays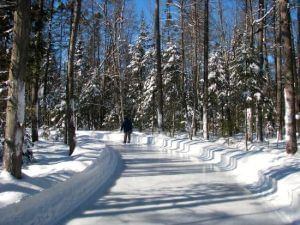 Need to get some energy out of your gang? Need to burn some calories after the eighth meat pie in 3 days? Or simply want to enjoy the beautiful snow of the Laurentians? Here are five activities to bring out your crazy side!
SKI AND SNOWBOARDING
This one is a bit obvious …! Why not take the opportunity to go for a few runs in the Laurentians? Surrounded by seven alpine ski resorts less than 10 kilometers away, Hotel & Spa Mont Gabriel is the ideal starting point for your downhill adventures, whether at Mont Habitant, Sommet Saint-Sauveur, Versant Avila, Sommet Morin- Heights, Sommet Olympia, Ski Chanteclerc or, of course, Sommet Gabriel! No equipment? No problem! All of these ski stations offer rentals starting at $ 40 for the day! No talent? No problem! Stations offer lesson programs starting at $ 59. Don't want to take the car? No problem! The Hotel is on top of a ski hill. Put on your gear and hit the slopes!
TUBING
Looking for an activity that the whole family can enjoy? Glissades sur tubes des Pays d'En Haut is perfectly designed for you! With a block of 2, 4 or 8 hours, for tubing, rafting or tornado, the whole family will benefit from this activity! With 37 tracks with different levels of difficulty, from novice to expert, no need to get tired by climbing the mountain! Take the chairlift or a magic carpet that will take you to the top of the mountain, day or night. Prepare your lungs to scream for joy or laugh out loud! Memories and funny moments guaranteed
ICE SKATING
Skating rinks are not hard to find in our area! Less than 4 km away, in Saint-Sauveur, there are no less than three surfaces to play hockey in addition to an skating trail in the forest of nearly 800 meters. Fanatic of skating on lakes? The Lac Rond ice rink in Sainte-Adèle, bordered by snowy mountains, offers an Instagram-like décor where you will be pleasantly warmed by the sun!
CROSS COUNTRY SKIING AND SNOWSHOEING
Want to raise your cardio? Less than 4 km from the hotel is the Petit Train du Nord bike path, nicely converted for cross-country skiing in the winter season! Whether you are a fan of speed or looking for a change of scenery, the 232 kilometers available to you can meet the needs of everyone! If snowshoeing is more your thing, the trails of the city of Sainte-Adèle are on our golf course! Over 47 kilometers allow you to connect with nature all season long!
BACKCOUNTRY SKIING
Are you the type that prefers to colour outside the lines? Backcountry skiing is perfect for you! This consists of two stages: climbing a mountain with snowshoes or skis with climbing skins, then descending the same mountain in an unmarked area! Take your inner adventurer out and discover one of the four Laurentian mountains offering the opportunity to practice this sport! The Mont Alta Experience offers 27 trails and undergrowth on a vertical drop of 178 meters, perfect for an initiation!