Enjoy School Break!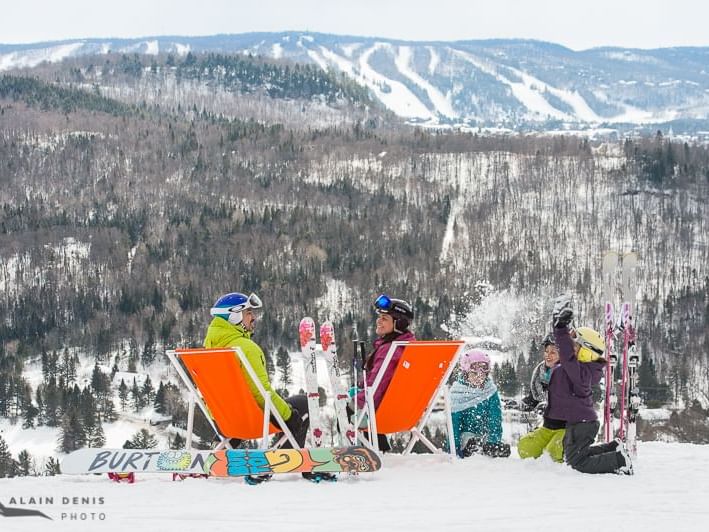 With Valentine's Day now behind us, it is now time to think about the upcoming festivities that are approaching: Spring Break! With your close or extended family, or between friends, this week is key to spend time together and enjoy the great outdoors! We do not know a better way to create memories (of quality and quantity) than to play outside!
THE OBVIOUS: GO DOWNHILL SKIING OR SNOWBOARDING!
Sliding sports are more and more accessible! The ski hills understood several years ago that the key is in variety! Alpine skiing or snowboarding, beginner or expert trails, complete equipment rental or simply the purchase of a ticket, private or group lessons: all the options are available for you to develop your hidden talent! For example, Sommet Gabriel offers a full equipment rental promotion, including the helmet, at a cost of $ 28, plus taxes, and the lift ticket is available for $ 21! It provides a reasonably affordable experience
TUBING! TUBING! TUBING!
Tubing from Glissades sur tubes des Pays d'En Haut offer a variety of options for all ages. Tubing, Rafting, Tornado, Bobsleigh, Vortex and much more! With tickets lasting 2 to 8 hours, young and old will find activities to meet their desired level of adrenaline. In addition, this is one of the only activities that offers the possibility of being practiced in the evening during spring break. Do you want to offer an unforgettable activity? Enjoy a helicopter ride for as little as $90 for three people and fly over the Saint-Sauveur region with its many ski resorts!
SKATE: SLIDE WITH EASE ON BREATHTAKING TRAILS!
The Laurentians are full of skating rinks, some more unusual than others! Saint-Sauveur offers three icy surfaces to play hockey in addition to an ice trail in the forest of nearly 800 meters!

UNDISCOVERED ACTIVITIES TO ENJOY THE WINTER!
Back country, this little-known activity, is gaining momentum in the Laurentians! Climbing a mountain, with snowshoes, followed by a descent into the powdery snow (courtesy of the storm last week) will please teenagers in search of thrills …! The Mont Alta Experience offers 27 tracks and undergrowth, perfect for sports initiation
In the same vein, Tyroparc Sainte-Agathe presents the highest Mega-Tyrolienne in Quebec, accessible even in winter! Via Ferrata, Mega-Ziplines, Hiking and snowmobiling, activities that will meet the need to spend the energy of the great children who accompany you!
Fan of speed? Snowmobiling and dog sledding are perfectly designed activities to make you tripper! Whether it's a 45-minute walk or a full day, for beginners or experts, Aventures Plein-Air in Saint-Hippolyte offers varied and interesting options!
Looking for an activity that can be done by all members of the group, regardless of their physical form? Ice fishing at Martin Le Pêcheur, a physically easy activity, offers a turnkey package valid for a group of up to 5 people and includes up to 8 trouts! All equipment and baits are provided
INDOOR ACTIVITIES
Despite the fact that the Laurentians are an ideal area for outdoor sports, several interior options are available. Especially during the school break, indoor pools are full with young and old! Don't want to wet your feet? Introduce your youngsters to golf with a virtual party at Bistro Golf, exhaust them at the Megamaze center or bring out their creative side at Billes & Cie!
Spas are also a great option for the whole family! The Relaxia Spa with its flexible schedule offers a wide range of treatments for the whole family. Massage, pedicure, facial: all these options are suitable for both children and adults! Finally, our complete restaurant, L'Ambroisie, offers a hearty and varied table d'hôte, while our Bistro Bar St-Moritz allows you to eat a bite in a relaxed atmosphere!