What are we drinking this summer!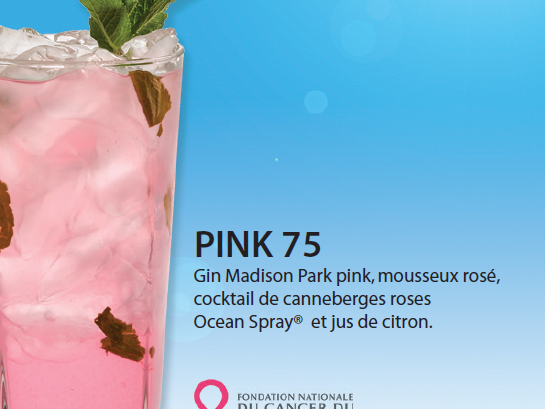 Summer has finally arrived! The season of cocktails, terraces and 5 @ 7 that continues until 9 is well underway. Our Assistant Restaurant Manager, Kim Dallaire, introduces us to the summer musts at the Mont Gabriel cocktail party!
Beyond the classics, Quebec spirits are in the spotlight. In the Pink 75, one of our signature cocktails, dry gin Madison Park Pink is in the foreground. The 1769 distillery, proudly installed in Montreal, has created a dry gin that reflects the cosmopolitan joie de vivre of Montreal! The flavors of lemon and rosé sparkling wine compliment maceration of wild hibiscus and cubeb berries perfectly. In addition to a modern and enticing look, this citrus and flower-flavored cocktail is refreshing and even offers almost medicinal benefits in connection with juniper berries. A little congested nose? What an excuse for a good cocktail!
Looking for a reinvented classic for the husband? Why not opt ​​for a Man Mosa! This updated version of the mimosa is perfect for a sunny afternoon by the pool or a family brunch. By adding Fireball to the classic recipe, you get a refreshing cocktail that delivers a punch!
Several cocktails this season are composed of reinvented classic recipes. Indeed, it's the big return of the Bourbon to Mont Gabriel! "Brown liqueurs are rich in flavor, which make them a perfect base for a cocktail," exclaims Kim. Concoctions such as Bee is for Buffalo, Buffalo Blush, Beauty & The Beast are all created from the Bourbon Buffalo Trace. This Kentucky Bourbon has caramel, maple, red fruit and menthol accents, allowing it to easily compliment any flavor and make it a versatile base.
Finally, it was important for the bar team to ensure that they had solid classics that appeal to customers who appreciate continuity. On the other hand, the team wanted to add a little dynamic touch! "We took advantage of the array of excellent Canadian spirits, such as Newfoundland Screech Rum, Canopé Gin, Sortilège, Garden Herbs and fruits available to modernize some classics," says Kim with apparent pride. The large selection of new martinis offers varieties based on espresso or fruity liqueurs as well as classics like Cosmo! All to excite your taste buds
No matter what your favorite cocktail is, the Mont Gabriel team will find the perfect combination for your puck. Or, come and enjoy an Aperol Spritz on our sunny terrace!